What are smart audio glasses? Are they just a combination of a Bluetooth headset and glasses?  

Absolutely not: they are more than this simple combination. The result of crossing normal glasses with Bluetooth technology is much more than the sum of its parts. With audio Bluetooth technology now being able to integrate with glasses efficiently, more and more intelligent audio glasses have appeared on the market. The current trend is for varying brands to focus on their overall performance while also placing emphasis on their product's special features. This is a very positive trend which proves that the whole market is maturing. So, what do buyers value most when shopping for a pair of smart audio glasses? Let's take a look at our reviews of the top 6 audio glasses and their unique advantages. This will help you find the pair that are the most suitable for you:
 1.Bose Tempo: the best sports companion ($199)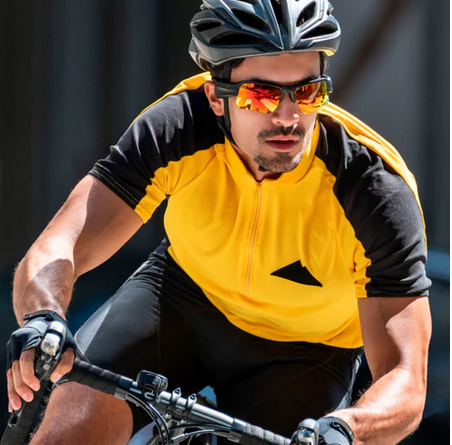 Bose Tempo glasses use Open Audio technology with a volume-optimized equalizer that clearly renders three voice registers at low volumes. This ensures less distortion at high volumes. What's more, the microphone system on this model has been upgraded from a single microphone to a dual beamforming array microphone. Compared to the other two sizes, Tempo is equipped with a larger driver unit with a size of 22mm. This makes for greater high-fidelity sound quality and more powerful volume. Of course, it does come at a cost: the overall size is much larger but still acceptable for wear. As Tempo is designed for sportswear, these glasses use the structure of TR90 and a custom spring hinge. This ensures that they are firmly fixed to the head even during high impact activities. Tempo is also the most outstanding model in terms of environmental and wind noise, making for safe and enjoyable listening. When I wear these during a ride, the whistling of the wind is reduced and I can hear my music clearly without losing the ambient sound.
 2.SANGSTRE:the most comfortable to wear ($199)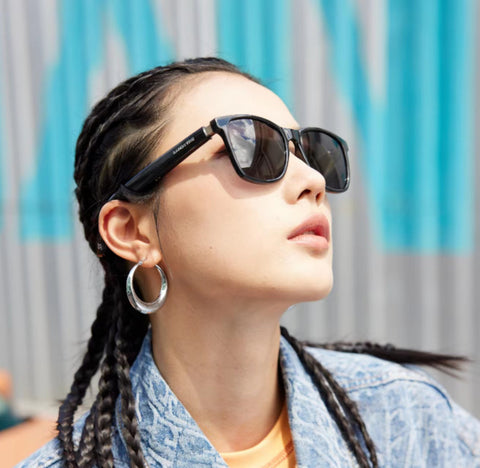 Many audio glasses are developed by technology companies who think that it is enough to simply add small speakers to glasses without considering the design. This means that some models have bulky shapes and heavy temples. Some glasses' tails are equipped with batteries so they look a little bit dull. What's even harder to accept is when there is only one size on offer for all head shapes. So, if you want comfortable wear, I really recommend that you try SANGSTRE smart audio glasses. Their advertising slogan 'all you see is a pair of glasses' rings true: they fit the head comfortably while looking like stylish frames. This brand is also the only one who realize the impossible nature of the 'one size fits all' approach to glasses on their website. To cater for the head shapes of varying races, SANGSTRE offers different Eurasian sizes in each of their designs. There is no need to worry about the battery life of these glasses, with storage and charging in one case. They conveniently begin charging when placed in their storage box. Although SANGSTRE has managed to make audio glasses that are more like ordinary frames, the brand has not lowered their standards in terms of sound. I was surprised that the glasses provided better sound quality and less sound leakage than many small brands.
 3.Razer:the best gaming partner ($199)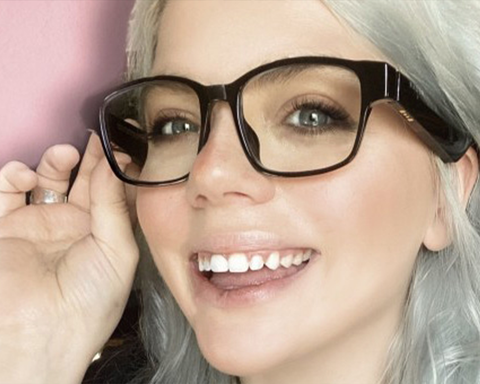 As a game lifestyle company, Razer's Smart Audio Glasses do not disappoint and are even more appealing to gaming enthusiasts. Their product's unique, flamboyant shape is especially suitable for the cool feeling of killing all of your enemies when playing games. Who wouldn't be attracted by Keanu Reeves in The Matrix? What's more, Razer smart audio glasses are equipped with all the features required to play games happily: ultra-low latency, barrier-free communication and full sound effects. The industry-leading 0.06-second ultra-low delay ensures smooth sound without interference, allowing you to immerse yourself in your game. You won't be interrupted by audio delay or block. These glasses adopt an open audio design with the omnidirectional microphone built into the frame. The sound effect is full and clear to achieve efficient communication. The Razer lens offers a blue light filtering capacity of 35% to protect your eyes and reduce eye fatigue, meaning more focus and more game time!
 4.Fauna:the most fashionable ($199)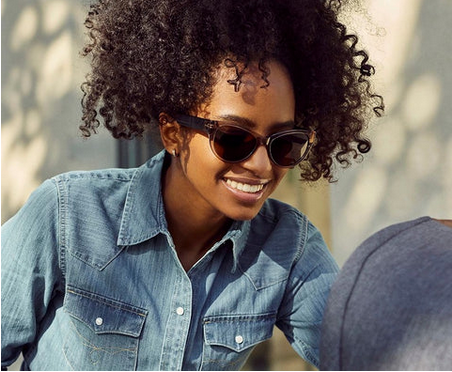 CEO Ferruccio Bottoni once said: "the design of Fauna audio glasses is different from other audio glasses products on the market. Consumers' demand for audio glasses is not only about technology, but they want to express fashionable attitude by wearing them, while Fauna helps them get what they want." Therefore, to keep up with the trends and stay on fashion's cutting edge, Fauna's appearance is different from other smart audio products. If you are shopping in pursuit of style, then Fauna's glasses could be for you. Their four models are all attractively shaped. The Fabula Crystal Brown and Spiro Transparent Brown are sunglasses styles, while Memor Havana and Levia Black are in the style of ordinary glasses. I personally own a pair of Fabula Crystal Brown. I think they have the appearance of a fashion darling. If you want smart glasses that also follow fashion trends, then Fauna is your best choice.
 5.Lucyd: the best for calling ($180)
Everyone knows that it is inconvenient and sometimes unsafe to take out your mobile phone for a call while you're driving or doing sports. When choosing to make smart glasses your partner in that situation, instead of your phone, call quality is particularly important. Lucyd has excellent audio quality and clear call sound. Even in a noisy outdoor environment, these glasses can ensure that you have high-quality communication. If that is your deciding factor when shopping for a pair of smart audio glasses, Lucyd is your best choice. As a fashion glasses brand, Lucyd offers more than a dozen frames to choose from. For those wanting to make their life more colorful, I suggest trying Lucyd.
 6.Soundcore: the most flexible and changeable ($149)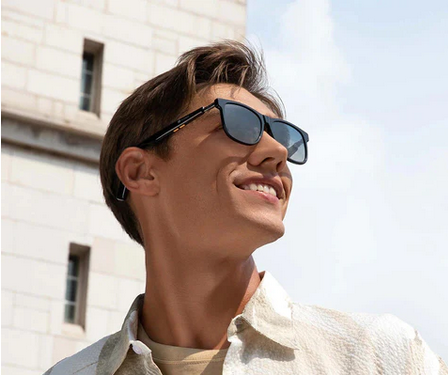 Soundcore smart audio glasses have come up with a new idea for the structure of their glasses. They adopt a detachable design on the frame, separating the front frame and the temples to make them independent of one another. You attach them using column holes, pushing the temples into the hole position. They will not come loose even if shaken hard. You can choose from more than a dozen front frames on Soundcore's website when you buy them in conjunction with the temple component. You can even switch between sunglasses and optical glasses at any time which is both convenient and enjoyable to do. This function is reasonably priced, with each separate pair of front frames costing $50. Soundcore glasses are equipped with two microphones and four speakers on each pair of glasses, allowing for the immersion of 3D listening using acoustic algorithms. Although the sound quality cannot be compared with Bose, it is still higher than average. These glasses are equipped with voice assistant function, allowing you to give voice commands for music playback and call answering.
Summary:
So far, we can't find a pair of smart audio glasses that are suitable for all scenarios. Different products have their own advantages for specific situations, so think carefully about your usage requirements before choosing a pair. For those users who place more emphasis on sound quality, you may to consider Bose, Razer or Lucyd. If you like fashion and exciting styles, you could try Fauna and Soundcore. The former's designs are enough to be a beautiful fashion item. The latter's detachable multi-style front frames allow you to mix and match your style whenever you please. Finally, if you want to strike a balance between comfort and sound quality, SANGSTRE smart audio glasses could become your perfect daily wearing glasses.